Mobile Crane Hire Brisbane
Since the manufacture of cranes, constructors, builders, and other affiliated tradesmen have been having life easy. Cranes are essential for that challenging project in different sectors of construction or transportation. As a result, the need for crane hire services has increased over the years. And while there are many cranes in the market, this doesn't result in an efficient crane service. The trick is to make use of an experienced crane hire service in the area.
For tailored crane hire solutions with a personalized touch in Brisbane and the Gold Coast, contact Big Rhino. With our fleet of cranes, we will offer the right cranes hire service for you.
For the best mobile crane hire rates in Brisbane, Gold Coast, and the Qld region, contact the expert crane and lifts hire team at Big Rhino.
Big Rhino is a local and family-operated mobile crane hire Brisbane business with experience throughout the Qld region. We have been in operation for over 30 years, providing quality and reliable services from Northlakes to Pimpama, from Springfield all the way to Redland Bay. As the premier Brisbane crane hire company in the area, we have a fleet of franna cranes, pick and carry cranes, and more. With the variety that we offer as a cranes hire service provider, you can be sure that we can meet any and all of your needs.
As the expert crane hire Brisbane, we acknowledge the fact that projects come in all shapes and sizes. Their requirements in terms of equipment, transport needs, and other crane hire specifics vary. Some may be in rough terrain while others might be in the city. What remains constant is the need for an experienced lift and shift crane hire company.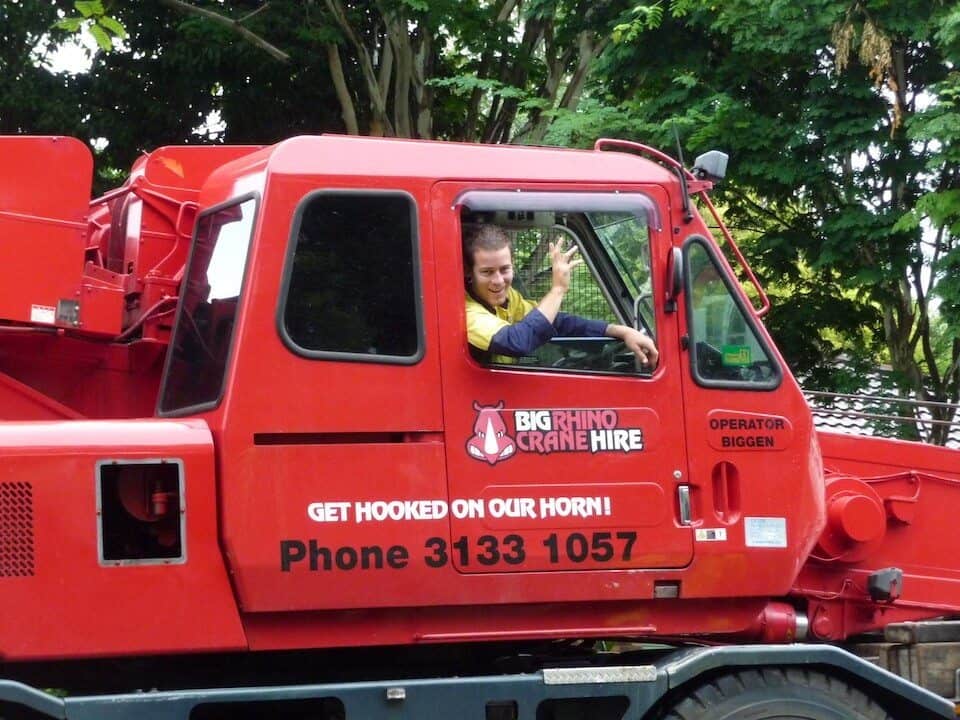 The best affordable small mobile crane hire services in the city
Big Rhino has established a reputation throughout Brisbane as the crane company to call for all the difficult jobs. We make use of 3 decades of industry knowledge and crane experience to provide safe and quality services. Past, current, and future clients are served by our qualified, experienced, and professional team who operate a well-oiled and maintained fleet of cranes.
For a mobile crane solution in workshops, construction residential projects, civil works, plants, or commercial developments, call upon the professionals at Big Rhino. You can rest easy knowing that your project will be completed on time and within the agreed-upon budget.
RELIABLE AND AFFORDABLE MOBILE CRANE HIRE COSTS
Be it a construction project, boating industry, or any type of site, lifting comes with its own risks. In most cases, Brisbane crane hire companies only have one chance to get it right. As the leading company in the industry, we ensure to adhere to safety protocols and standards.
Before our franna cranes lift service, we perform comprehensive and free site inspections. This allows estimating the equipment and transport vehicles necessary for your project. We have a wide range of lifting options for our clients, from the small franna lift to large slew cranes. Our operators have also handled projects of all manner and terrain; from within the city limits to the shore and the rural areas.
Servicing North Lakes, Pimpama, Springfield Lakes, and Redland Bay, we are the lifting and rigging specialists that residents and businesses rely upon. With several cranes available, be assured that our operators will lift your cargo in any kind of site or terrain.
In need of a Brisbane crane rigging service? Don't take any chances when it comes to the safety of your employees, family, or neighbors. Choose the qualified and experienced operators from Big Rhino. With our industry knowledge, we offer the right crane solutions at a cost-effective price. Why don't you give us a call and inquire about our lifting and rigging options?
Get in touch with us today and inquire about our pick and carry machines. There is no crane hire service in South East Queensland other than Big Rhino. And there are no lifts in the area that are too hard for us.
You will receive a free quote for your troubles.